I'm always harping about buying local, here is a nice national project that talks about the same thing.
When I talk about buying local I'm not just talking about buying at Carolina Creations (but of course we LOVE it when you do!), I'm talking about buying potting soil (or light bulbs, glue, getting a key made, paint, etc, etc) at Mitchell Hardware instead of one of those big, non local chains. The price is the same, they'll remember your name and most of the time even what you purchased last.
Or have you tried the frozen shrimp at The Galley Stores? They are EXCELLENT and are now on our always have list in the freezer replacing the boring frozen chicken breasts we used to always have. This is not your typical convenience store it's a small full grocery store that just happens to have gas pumps in front. And it sure beats standing in line at one of the big grocery stores.
Do you know that we have quite a following from surrounding towns that drive to Downtown New Bern to Shop? They say they have nothing like it in their own towns.
Now to the 3/50 Project........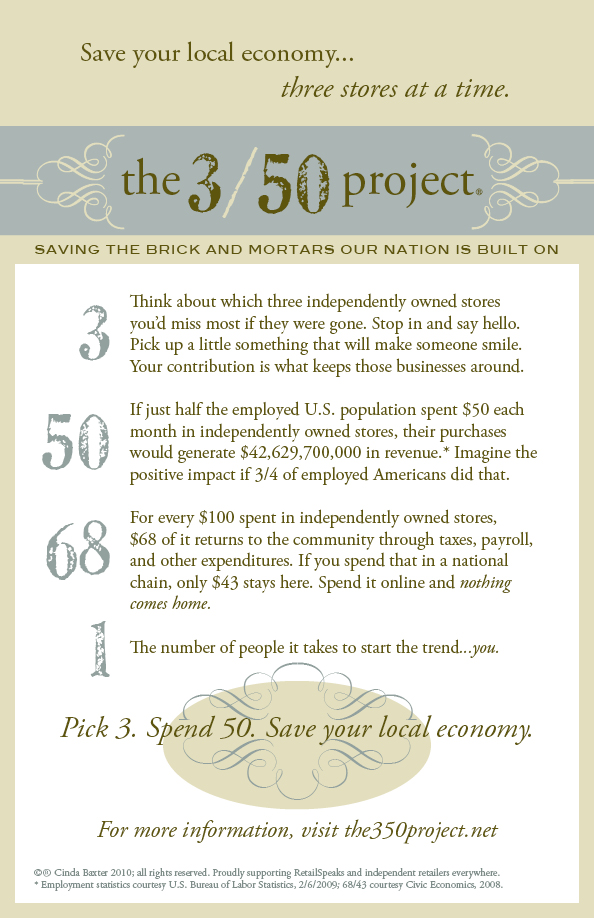 You can just click on their image to read more about it!